Serenity Essentials Products
Serenity Essentials products are all-natural and handcrafted, using only high-quality essential oils and organic ingredients. Serenity Essentials provides a holistic experience by promoting wellness for the mind, body and spirit through a spa-like experience. Serenity Essentials handmade collections include exfoliating body scrubs, enriching body butters and moisturizing creams, as well as revitalizing aromatherapy sprays. 
Meet the Founder
Alfreda Barnett, Founder and CEO
Alfreda has a passion for cultivating wellness of the mind, body, and spirit. She is well versed in aromatherapy and body care product formulation. She believes that it is essential to invest in self-care to maintain well being and productivity.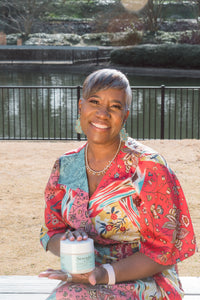 The White Tea Body Butter is pure heaven! It has literally given me my feet back! During this Covid pandemic they were their worse.  I am usually at the nail salon twice a month, needless to say that all stopped mid-March. I am also diabetic which causes my skin to stay extremely dry. After using the body butter, they are like new again.

The Serenity Body Scrubs are also wonderful. It makes my skin feel so soft! I liked that I could smell the fragrance you incorporated into scrubs and the noted glow on my skin when I get out of the shower.

The candle you included in my spa basket was a nice relaxing touch during bath time or just to smell as I relaxed. 😊 I have enjoyed.

Irene Allen, Virginia
Love Serentiy Essentials LLC, wonderful products!

Deborah Bromiley, Raleigh, N.C.
I love it. Convinced this Lavender Body Cream is removing stretch marks. Need to reorder soon.

Niada Robinson Cradle